Adele is best known for her blockbuster hit, "Rolling in the Deep."
But was the singer once rolling in the hay... on camera?
Yes, a French tabloid hilariously claims, as the latest issue of Public is running a cover story that alleges Adele and the ex about whom she penned songs from the album "21" once pulled a Kim Kardashian/Ray J. The magazine even includes photos with the report.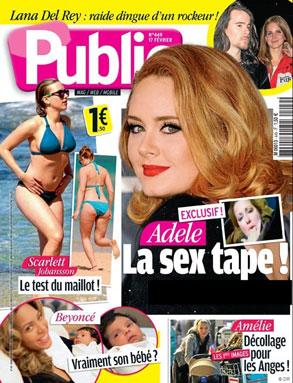 In response, Adele has hired Schillings law firm to represent her in a possibly lawsuit against the tabloid.
"We are informed that the French magazine Public has today published images which it claims show our client in a sex tape," one of Adele's attorney says. "Our client has not appeared in a sex tape as claimed in the article. Our client does not appear in the photographs. Such claims are grossly defamatory. Our client is taking legal action in relation to this matter."
Darn right. In this instance, rumor has it... wrong.
Source: http://www.thehollywoodgossip.com/2012/02/adele-sex-tape-story-sparks-legal-threat-from-singer/
aladdin weird al yankovic bling ring bling ring melissa mccarthy green river killer bohemian grove